The Twelve Kingdoms (Juuni Kokuki) [Eng Sub] [Eng Dub] Download
The Twelve Kingdoms
| April 2002 (United States)
Summary: High school student Youko Nakajima is approached by a strange man who claims he's been searching for her and that she is the rightful ruler of his kingdom.
Countries: JapanLanguages: Japanese
Synopsis
Youko Nakajima has only ever wanted to be normal. She does what she is asked, gets good grades, is the class president, and even helps her classmates whenever she can—but because of her red hair, she has never fit in. With her pushover attitude, Youko lets classmates take advantage of her, so she has nobody she can really call a friend.
But on an otherwise ordinary day, a man who claims to be from another world barges into Youko's classroom and bows before her. This elegant blond-haired man, Keiki, claims that Youko is his master and belongs on the throne of his kingdom. However, their first meeting is cut short as Keiki has been followed by otherworldly beasts called youma. He is able to escape with Youko into his own realm, but two other classmates—Ikuya Asano and Yuka Sugimoto—are caught up in the madness as well. Unfortunately, their troubles have only just begun, as the youma attack leaves them separated from Keiki. Alone in this strange new land, these ordinary students must learn to fend for themselves or die.
Alternative Titles
English: The Twelve Kingdoms
Japanese:

十二国記

Synonyms: 12 Kingdoms, Juuni Kokki
Information
Type: TV Series
Episodes: 45
Genre: Action, Adventure, Fantasy, Supernatural
Quality: 480p, 720p & 1080p
Audio: Japanese
Subtitles: English
Screenshots of The Twelve Kingdoms (Juuni Kokuki)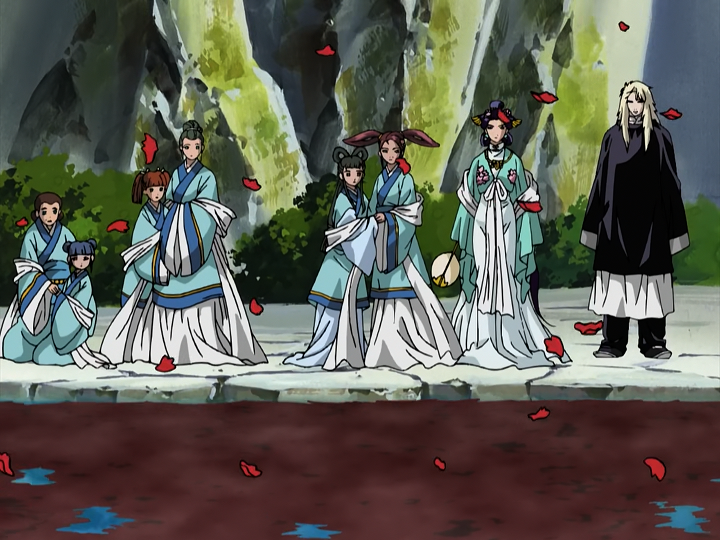 Download The Twelve Kingdoms (Juuni Kokuki) (2002)
The Twelve Kingdoms (Juuni Kokuki) [Eng Dub – Dual Audio] [1080p]