Golden Kamuy (Season 3) | Dual Audio | Eng Sub | Download
Golden Kamuy
| April 9, 2018 (Japan)
Summary: In the early 20th century in Hokkaido, Japan, a treasure hunt between various parties takes place for a hidden stash of gold.
Countries: JapanLanguages: Japanese
Synopsis
Third season of Golden Kamuy. Will Asirpa and Sugimoto ever be reunited? A new battle for survival begins in the frozen land of Karafuto! After the battle at the prison, Sugimoto and Asirpa were separated. Kiroranke and Ogata take Asirpa north to Karafuto, along with Shiraishi, the "Escape King," to follow a clue about her father. With Noppera-bo, the man who stole the Ainu gold, dead, only his daughter Asirpa can solve the mystery. Kiroranke's goal is to take her to meet his former comrades, Far-East Russian partisans. Meanwhile, Sugimoto teams up with Lt. Tsurumi and the rest of the 7th. He and Tanigaki volunteer to go ahead to search for her. They head to Karafuto, along with Tsukishima and Koito. What awaits them in the frozen lands of the North? A new battle for survival!
Alternative Titles
English: Golden Kamuy Season 3
Japanese: ゴールデンカムイ 3
Synonyms: Golden Kamuy 3rd Season
Information
Type: TV Series
Quality: 480p, 720p & 1080p
Audio: Japanese
Subtitles: English
Screenshots of Golden Kamuy (Season 3)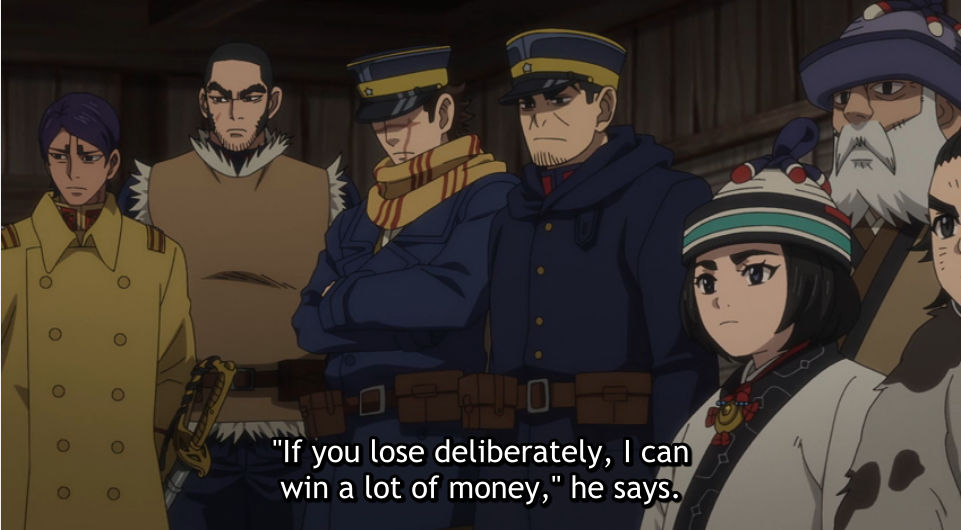 Download Golden Kamuy (Season 03) [Dual Audio] [English Sub]
Golden Kamuy (Season 03) [Eng Sub] [1080p]
Golden Kamuy (Season 03) [Dual Audio] [1080p]