Golden Kamuy (Season 2) | Dual Audio | Eng Sub | Download
Golden Kamuy
| April 9, 2018 (Japan)
Summary: In the early 20th century in Hokkaido, Japan, a treasure hunt between various parties takes place for a hidden stash of gold.
Countries: JapanLanguages: Japanese
Synopsis
In Hokkaido, it is rumored that there is a stash of hidden gold. This gold was supposedly stolen by a man who killed the original Ainu owners; and before being captured and imprisoned by the police, he hid it in a secret location. In order to relay the gold's location to his comrades on the outside, he tattooed the map on the bodies of his cellmates and promised them a share of the gold—provided they managed to escape and find it.
In Golden Kamuy 2nd Season, First Lieutenant Tokushirou Tsurumi plans to give the 7th Division an advantage in the war for the tattoos by getting a taxidermist to create skins that only he can distinguish as fake. Meanwhile, Saichi "The Immortal" Sugimoto, Asirpa, and their companions continue their hunt for the skins by following a strange rumor: a thief who broke into a home in Yubari found taxidermied human corpses, among which was a torso with strange tattoos.
Alternative Titles
English: Golden Kamuy Season 2
Japanese: ゴールデンカムイ 2
Synonyms: Golden Kamuy 2nd Season
Information
Type: TV Series
Quality: 480p, 720p & 1080p
Audio: Japanese
Subtitles: English
Screenshots of Golden Kamuy (Season 2)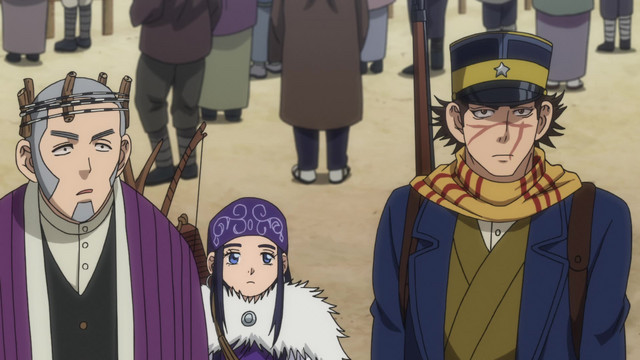 Download Golden Kamuy (Season 02) [Dual Audio] [English Sub]
Golden Kamuy (Season 02) [Eng Sub] [1080p]
Golden Kamuy (Season 02) [Dual Audio] [1080p]