Re:Zero Starting Life in Another World (Seasons 1-2) | Dual Audio | Eng Sub | Download
Re: Zero, Starting Life in Another World  | TV Series (2016– )
1440min | Animation, Adventure, Drama | TV Series (2016– )
Summary: Shortly after being summoned to a new world, Subaru Natsuki and his new female companion are brutally murdered. But then he awakes to find himself in the same alley, with the same thugs, the same girl, and the day begins to repeat.
Countries: JapanLanguages: Japanese
Synopsis
When Subaru Natsuki leaves the convenience store, the last thing he expects is to be wrenched from his everyday life and dropped into a fantasy world. Things aren't looking good for the bewildered teenager; however, not long after his arrival, he is attacked by some thugs. Armed with only a bag of groceries and a now useless cell phone, he is quickly beaten to a pulp. Fortunately, a mysterious beauty named Satella, in hot pursuit after the one who stole her insignia, happens upon Subaru and saves him. In order to thank the honest and kindhearted girl, Subaru offers to help in her search, and later that night, he even finds the whereabouts of that which she seeks. But unbeknownst to them, a much darker force stalks the pair from the shadows, and just minutes after locating the insignia, Subaru and Satella are brutally murdered.
However, Subaru immediately reawakens to a familiar scene—confronted by the same group of thugs, meeting Satella all over again—the enigma deepens as history inexplicably repeats itself.
Alternative Titles
English: Re:Zero − Starting Life in Another World
Japanese: Re:ゼロから始める異世界生活
Synonyms: Re: Life in a different world from zero; Re:Zero; ReZero
Information
Type: TV Series
Seasons: 02
Episodes: 25 per Season
Status: Finished Airing
Genre: Psychological, Drama, Thriller, Fantasy
Quality: 1080p
Audio: Japanese
Subtitles: English
Screenshots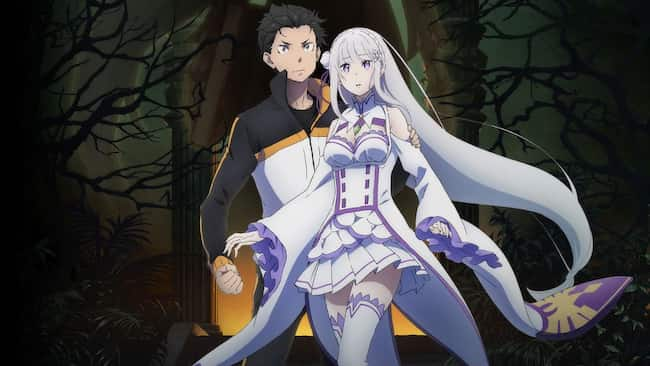 Re:Zero − Starting Life in Another World Complete (Seasons 1-2 + OVAs) Download
Re:Zero − Starting Life in Another World Complete (Season 01) [1080p]
Re:Zero − Starting Life in Another World Complete (Season 02) [1080p]
Re:Zero − Starting Life in Another World (OVAs) [1080p]
Re:Zero − Starting Life in Another World (Break Time + PETIT) [1080p]