Hajime no Ippo (Fighting Spirit) (All Seasons + Movies + Specials) [Eng Sub] [Dual Audio] Download
Watch Hajime no Ippo (Fighting Spirit) Online
Download Hajime no Ippo High Quality Anime, Hajime no Ippo HD Anime Download, Download Hajime no Ippo Eng Sub, Download Hajime no Ippo Complete Season Eng Dub, Download Hajime no Ippo Anime Series, Download Hajime no Ippo English Sub, Download Hajime no Ippo Dual Audio, Download Fighting Spirit English Dub, Download Fighting Spirit Anime in HD Quality, Watch Fighting Spirit Online, Download Fighting Spirit Dual Audio, Download Fighting Spirit Eng Sub, Fighting Spirit Dual Audio Download, Hajime no Ippo Mega Batch Download, Hajime no Ippo GDrive Batch Download
Fighting Spirit
Animation, Action, Comedy, Sport | March 27, 2000 (Japan)
Summary:
Countries: JapanLanguages: Japanese, English
Synopsis + Watch Order
Hajime no Ippo (Fighting Spirit) Complete Watch Order
1. Hajime No Ippo (Season 01)
Makunouchi Ippo has been bullied his entire life. Constantly running errands and being beaten up by his classmates, Ippo has always dreamed of changing himself, but never has the passion to act upon it. One day, in the midst of yet another bullying, Ippo is saved by Takamura Mamoru, who happens to be a boxer. Ippo faints from his injuries and is brought to the Kamogawa boxing gym to recover. As he regains consciousness, he is awed and amazed at his new surroundings in the gym, though lacks confidence to attempt anything. Takamura places a photo of Ippo's classmate on a punching bag and forces him to punch it. It is only then that Ippo feels something stir inside him and eventually asks Takamura to train him in boxing. Thinking that Ippo does not have what it takes, Takamura gives him a task deemed impossible and gives him a one week time limit. With a sudden desire to get stronger, for himself and his hard working mother, Ippo trains relentlessly to accomplish the task within the time limit. Thus Ippo's journey to the top of the boxing world begins.
2. Hajime No Ippo: Boxer No Kobushi (Special)
A special episode included in the DVDs. It tells how Takamura started boxing.
3. Hajime No Ippo: Champion Road (Movie)
The challenger has become the champion as Ippo Makunouchi now wears the featherweight championship belt of Japan.
Some time has passed since Ippo's victory, and he has found his friends and coach as supportive as ever; his crush, Kumi Mashiba, seems to enjoy spending time with him as well. Things are looking bright for the new champion, but just as he once set his sights on becoming the best, his first challenger poses an intimidating threat.
Kazuki Sanada works as a doctor at the same hospital as Kumi and fights strategically. Known for integrating his knowledge of the human body into his fights, Sanada is a fearsome contender—however, more unnerving than his physical ability, he has garnered the support of the nurses. Despite being the champion, Ippo feels the pressure as he must face the daunting challenge, retain his belt, and win over the girl he loves.
4. Hajime No Ippo: Mashiba Vs. Kimura (Movie)
Tatsuya Kimura is beginning to feel left behind. With his friends Ippo Makunouchi and Mamoru Takamura holding the championship belt in their respective weight classes, Kimura's inability to become Japan's Junior Lightweight boxing champion eats away at him. Scheduled to fight with the current champion Ryo Mashiba, Kimura begins to train with Ippo's rival Ichirou Miyata, who previously suffered a crushing defeat from Mashiba's signature "Hitman" style of boxing.
But Mashiba has his own desire to hold onto the belt, hoping to soon shoot for the World title and secure financial stability for his sister Kumi. Will Kimura's overwhelming drive to prove his strength as a boxer overcome Mashiba's desperate wish to provide a better life for Kumi?
5. Hajime no Ippo: New Challenger (Season 02)
Japanese Featherweight Champion Ippo Makunouchi has successfully defended and retained his title. Meanwhile, his rival, Ichirou Miyata, has resurfaced in Japan, aiming for his own Featherweight belt in the Oriental Pacific Boxing Federation. When the rest of the world comes knocking, however, will Japan's best fighters rise to the challenge and achieve glory at the top? Or will the small island nation be crushed under the weight of greater entities? This time, champions will become challengers issuing a call to the rest of the world and ready to show off their fighting spirit!
6. Hajime no Ippo: Rising (Season 03)
Japanese Featherweight Champion Makunouchi Ippo has defended his title belt once more with the help of his devastating signature move: the Dempsey Roll. However, new challengers are rising up left and right, claiming to have an answer for the move responsible for crushing his opponents. Will Ippo be able to step up to the challenge, or will the weight of his pride destroy him before he finds out just what it means to be strong? Meanwhile, fellow Kamogawa Gym mate Aoki Masaru is just a hop, skip, and a Frog Punch away from claiming his own belt, ready to take on the Japanese Lightweight Champion!
Hajime no Ippo: Rising continues Ippo's quest to become stronger, featuring the same cast of loveable dimwits from Kamogawa Gym, as they put their bodies and hearts on the line to make their way in the harsh world of professional boxing. With a will of iron, Ippo steps into the ring once again.
Alternative Titles
English: Fighting Spirit
Japanese: はじめの一歩 THE FIGHTING!
Synonyms: Hajime no Ippo
Information
Type: TV Series
Episodes: (Season 01)-75, (Season 02)-26, (Season 03)-25
Status: Finished Airing
Genre: Comedy, Drama, Sports
Quality: 480p, 720p, 1080p
Audio: Japanese & English
Subtitles: English
Screenshots of Hajime no Ippo (Fighting Spirit)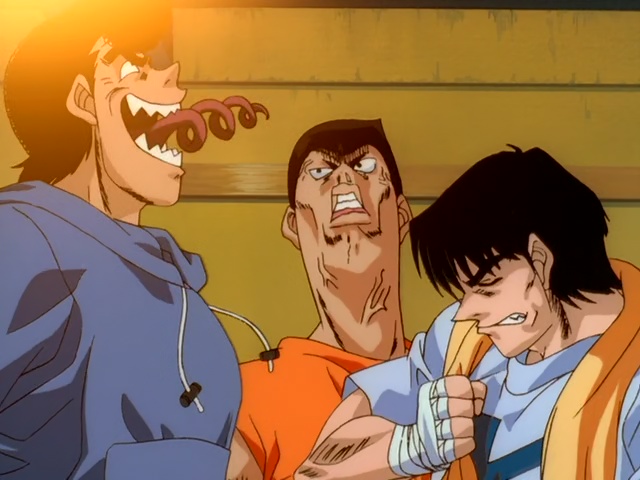 Download Hajime no Ippo (Fighting Spirit) (Season 1-3) [Eng Sub]
Hajime no Ippo (Fighting Spirit) (Season 01) (2000-2002) [Eng Sub] [1080p]
Hajime no Ippo (Fighting Spirit) (Season 02) (2009) [Eng Sub] [1080p]
Hajime no Ippo (Fighting Spirit) (Season 03) (2013-2014) [Eng Sub] [1080p]
Download Hajime no Ippo (Fighting Spirit) (Season 1-3) [Dual Audio]
Hajime no Ippo (Fighting Spirit) (Season 01) (2000-2002) [Dual Audio] [1080p]
Hajime no Ippo (Fighting Spirit) (Season 02) (2009) [Dual Audio] [1080p]
Hajime no Ippo (Fighting Spirit) (Season 03) (2013-2014) [Dual Audio] [1080p]
Download Hajime no Ippo: Boxer no Kobushi (2003) – Special – [Eng Sub] [Dual Audio]
Hajime no Ippo: Boxer no Kobushi (2003) [Eng Sub] [480p]
Download Hajime no Ippo: Champion Road (2003) – Movie – [Eng Sub] [Dual Audio]
Hajime no Ippo: Champion Road (2003) [Eng Sub] [480p]
Download Hajime no Ippo: Mashiba vs. Kimura (2003) – Movie – [Eng Sub] [Dual Audio]
Hajime no Ippo: Mashiba vs. Kimura (2003) [Eng Sub] [480p]